Networking Advanced
Networking Advanced builds on from the Networking Basics course and explores more effective techniques and approaches for advanced networking.
☑ Course Delivery Duration: 4 x 45 Minute Instructor led Virtual Classroom Training (VCT) Sessions
☑ Self-Study Duration: 2-4 hours self-study and work-based tasks
☑ Course Materials: Downloadable materials for this course include a detailed manual for each module, Plan-Do-Check-Act template, SMART actions template, four-square activity and 10 minute presentation templates. These materials will be used in the sessions and can be used after the sessions.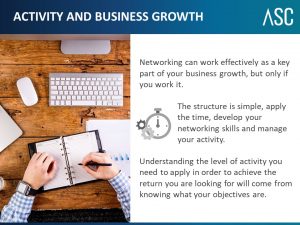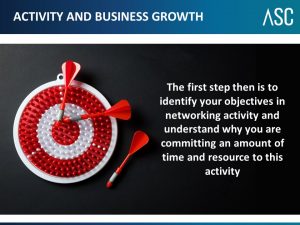 Additional Information
Designed for networkers with 3-6 months experience or more, this course will challenge your knowledge, skills and behaviours and help to focus on effective core activities that lead to greater visibility and credibility within your group. Developing a greater understanding of networking activity and improving confidence in focussed networking conversations, presentations and activities designed to add value to your group. Through this course you will increase your confidence in being an influencer and key member and see a greater return on your investment through specific measured activities.
For group directors, leaders and managers, this course will help develop your growth strategies and provide a framework to help you grow and develop your group(s).
This course is designed to be engaging, easy to follow and to provide you with measurable improvements in your confidence, techniques, approach and results.
Click below to view the purchasing options available for WebCoach Training Sessions
Start your virtual learning journey now